PortaSauna™ Portable Steam Sauna
$299.95

$299.95

Save

$300.04
---
---
Create a spa at home in just seconds!
The PortaSauna™ Portable Steam Sauna reduces tension, fatigue and stress that is an effective way to glow your skin to look young and slim. It invigorating and purifies your body by releasing toxins from your pores. You should not miss PortaSauna's unique portable steam sauna spa steam that is rather convenient for you to fold up and off where you go.
Multiple Health Benefits
Since the blood vessels relax and dilate in a sauna, blood flow increases and the experience can help reduce tension in the joints and relieve sore muscles. Saunas might also help those with chronic pain and arthritis.
Features & Benefits:
Improve overall health, wellness, and performance
Aid in recovery after intense physical activity
Flush toxins via sweating process
Improve brain health
Relieve stress
Induces a deeper sleep
Helps fight illness
Cleanses the skin
Anti-Aging properties
Easy to Use
The Portable Home Steam Sauna is easy to use, therapeutic, and a great choice for steam therapy at home. The Portable Home Steam Sauna doesn't need plumbing, wiring, or time draining maintenance.
Install in Seconds
You don't even need tools to set it up. Just pour water into the high-performance stainless steel steam pot, plug it into any standard outlet, and in a few minutes, you'll luxuriate in your own steam sauna.
The interior steam tank can be used with herbal medicines or incense.
Waterproof
The sauna tent is made of waterproof cotton cover and plastic frame for great steadiness, easy to set up and use at home. When not in use, it can be folded, take up little space
Convenient
Features two zippers for you to put out your hands to read or use your phone; a pocket to hold the remote; an open neckline for you to have a breath of fresh air when doing sauna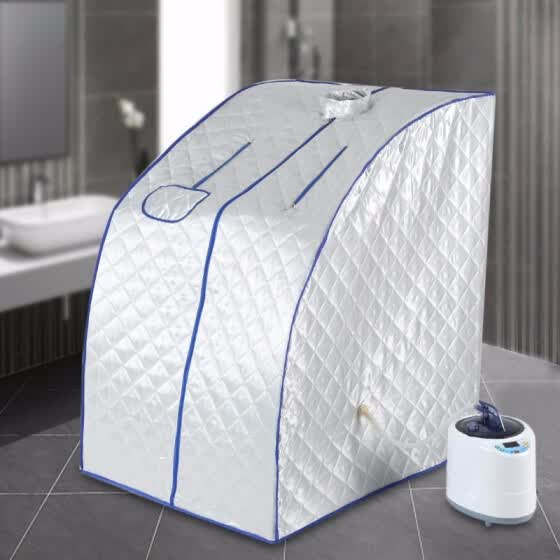 Automatic Power
Automatically power off when there is no water in the inner tank. Anti-explosion and leakage prevention
Suitable for personal health care: lose weight, remove toxin, reduce stress and fatigue